Fully redesigned and revamped, the Hôtel Château Laurier Québec City's modernised the lobby and part of the facade at the cost of $1.6 million. Trendy and modern, the new lobby impresses with its noble materials, bright lighting and new dimensions. The façade tastefully redefines the outdoor image of this 4-star hotel. The project was initiated and designed by Aude Lafrance-Girard, the young general manager. She is part of the family history of the hotel and wants to welcome high-season visitors in a modern setting.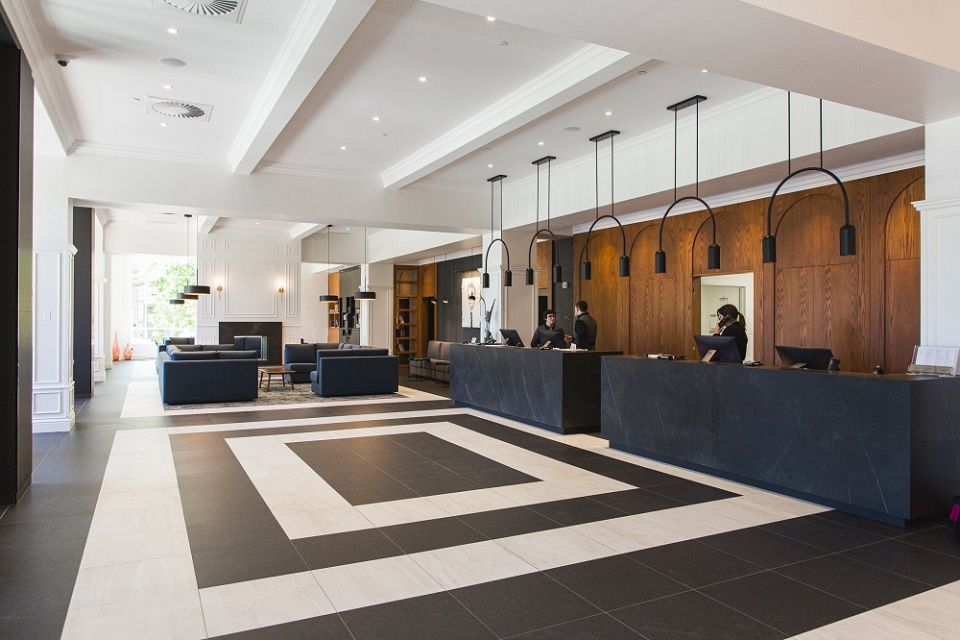 "2019 was the 20th anniversary of the last renovation of the lobby, built in 1999. We know that visitors and business people are attracted to modern design. This is why we decided to fully redesign the lobby and a major portion of the outdoor façade," stated Aude Lafrance-Girard. 
Begun on March 11th, 2019, the work was a logistical challenge and led to many headaches for the general manager and her team. They found ingenious ways to continue to enthusiastically and professionally welcome and serve all their clients at the customary levels.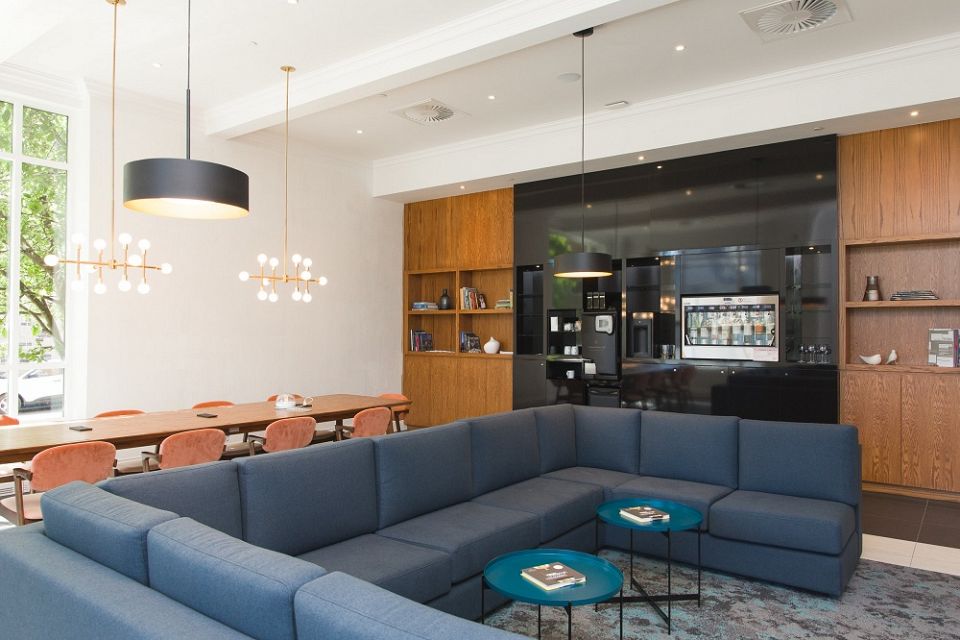 The lobby is now much more than a simple welcome and registration desk. It now highlights all the company's dimensions and experiences it offers. Bright yet sober, chic yet refined, the new lobby includes woodwork, natural lighting and original materials, such as mashrabiya, which provides a metallic lace effect to separate spaces. Vaster and more personalised, the new lobby will facilitate exchanges and collaboration by providing more intimate waiting and attractive work zones. The hotel's façade was remodelled, and now includes a new revolving door, a signature of famous hotels, and is inviting and open to both guests and the general public.
Everything was meticulously calculated and designed to allow the Hôtel Château Laurier Quebec City's lobby to promote commercial, cultural and event environments. With this in mind, the new gourmet boutique offers refined and exclusive products from the Chef at George V, Henrich Meesen. Guests can also enjoy works by the painter Louis Boudreault, including custom paintings by this famous Magdalen Islander representing the five major Quebec French personalities having marked its culture: Gilles Vigneault, Félix Leclerc, Sylvain Lelièvre, Pauline Julien and Claude Léveillée.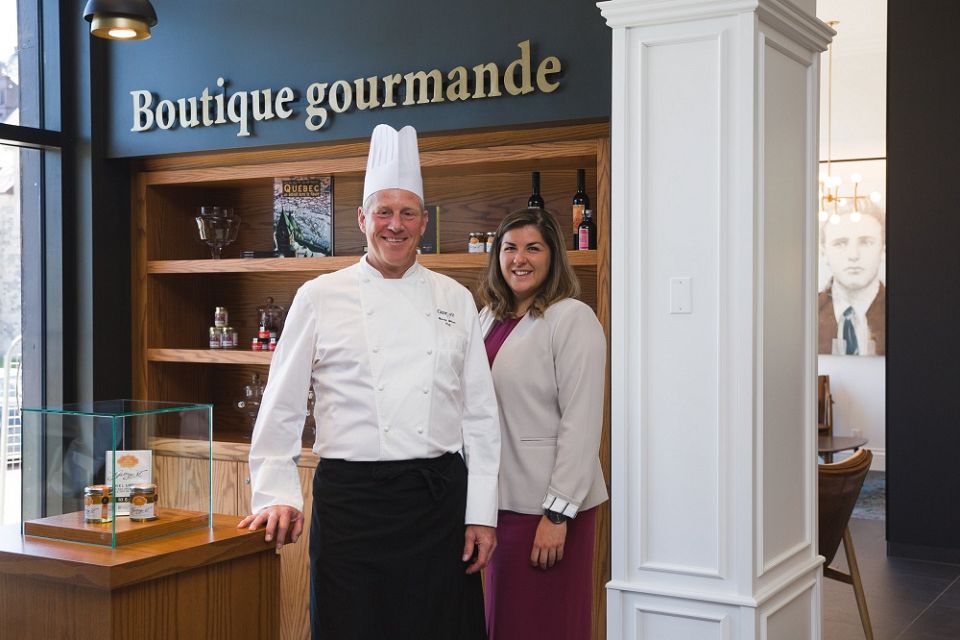 The chef from George V banquet and catering service, Henrich Meesen, proudly poses beside the general manager of Hôtel Château Laurier Quebec City, Aude Lafrance-Girard, inside the hotel's new lobby. It includes several new additions, such as the George V gourmet boutique.
"Our daily challenge is to always listen to the demands of a new generation of travellers. Today, the design/environment where people are welcomed is part of the consideration associated with client experience. Travellers feed their social media with pictures taken everywhere they travel. As a consequence, we have to rethink the aesthetics and functionality of our common areas to create an atmosphere that will promote the client's experience. Part of our DNA, this is the fact that we are North American Quebec Francophones. Our establishment wants our clients to experience this in every facet. We are "Franco-friendly", and our clients need to see this and feel it. That is what client experience is about!" continued Aude Lafrance-Girard.
$8 MILLION IN INVESTMENTS SINCE 2013
Driven by their mission of "Promoting Dreams and Professions", the hotel managers' decisions are influenced by this motto. Over the past several years, the Hôtel Château Laurier Quebec City has made investments to improve its commercial offer and their clients' experience:
December 2013-June 2014: renovation of nine of the 34 rooms and two meeting rooms ($3.4 million investment)
February-May 2018: expansion and transformation of 43 rooms, reducing the number of rooms from 282 to 271 ($2.5 million investment).
March-June 2019: full remodelling of the lobby and revamping of hotel façade ($1.6 million investment).
Annually: new layouts and maintenance ($500,000 recurring investment).
The work for the lobby transformation was completed by Garoy Construction, a long-term partner of Hôtel Château Laurier Quebec City. The design and architectural work were completed in collaboration with Hatem+D. To harmonise the beauty of the new lobby with the rest of the hotel, the indoor signage was completely changed. The Hôtel Château Laurier Quebec City is now ready to welcome its clients during the tourism season!

This is a translation of an article published on Tourismexpress